Establishment figures – all of them white – smear MP after she challenges racism report's positive treatment of slavery and colonialism, while racists pile onto her for speaking out
Labour MP Claudia Webbe has been the target of attacks by media and Tory MPs for challenging the conclusions of the government's widely-criticised report that claimed people of colour are not disadvantaged in the UK – and that, astonishingly, said there should be a 'new story' about Britain's colonial and slave-trading past that highlights the 'cultural transformation' of those enslaved and colonised.
Webbe tweeted a map showing the carve-up of Africa by colonial powers and observed that it is 'hidden' from many people in this country:
This triggered a pile-on by Establishment figures and media.
White Tory MP Ben Bradley's libel against Jeremy Corbyn resulted in one of the most popular UK Conservative tweets of all time and he has been attacked for promoting 'eugenics' after saying that unemployed people should be sterilised. And he was 'owned' by Martin Luther King's daughter after a tweet of his own used King's speech to minimise racism:
A white Mail Online reporter ran with a headline claiming Webbe had been 'ridiculed online' for her tweet: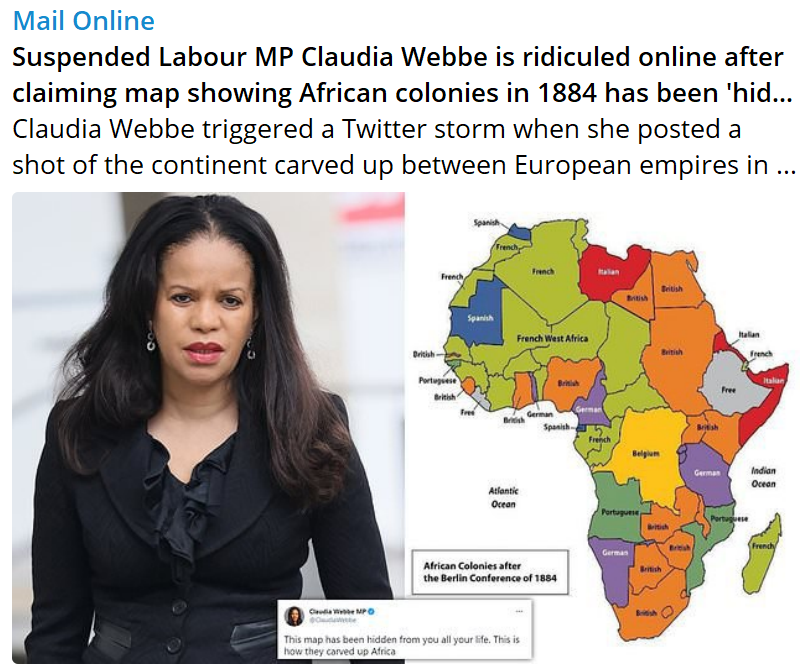 A white Telegraph hack used the same tack, while a white colleague tweeted sneeringly that she had learned the subject in year 11 at school:
The tweets and articles were mirrored by a foul racist pile-on against Webbe – one of several she has suffered in recent weeks – for speaking out, as writer and comic Marc Burrows observed:
The replies to this are fucking appalling. https://t.co/lmZhI5RQA3

— Marc Burrows (@20thcenturymarc) April 6, 2021
But it seems the facts stack up on Webbe's side. While the subject of the carve-up is touched on in the curriculum, this is only as an optional module and frequently ignored – and only covers a brief period in the history of slavery and colonialism when it is taught, as Sue Caro pointed out in response to one vile comment:
WTF are you on about? I'm taking issue with idiots like you who insist something is taught across UK when it's not, it's NOT compulsory in National Curriculum & even the optional part is for less than 100 years of slavery. See for yourself https://t.co/0YtLpMIFp9
Webbe, for her part, has taken the high road and ignored the racist smears, tweeting instead to point out on aspect of the horrific legacy of colonialism in Africa:
Starvation numbers in Africa:
27.3m Democratic Republic of Congo 1.73m Zambia 

2.7m Somalia 

9.34m South Africa 

2.7m Mozambique 

8.6m Ethiopia 


3.2m Burundi 

0.5m Namibia 

1.8m Kenya 

2.6m Uganda 

1.93m Central African Republic 
UK Government does not care
— Claudia Webbe MP (@ClaudiaWebbe) April 6, 2021
And she pointed out that a petition to make the proper teaching of black history in UK schools compulsory has been signed by almost 300,000 people:
Make Black British History Compulsory in Schools pic.twitter.com/GxjfQhSjpz

— Claudia Webbe MP (@ClaudiaWebbe) April 6, 2021
A spokesperson for the Labour Black Socialists group told Skwawkbox:
Here we go again. Ben Bradley, a Tory MP, and others minimising racism after Claudia Webbe had tweeted that the UK's colonialism is not taught in UK schools. The racist abuse Claudia is receiving is abhorrent and shows exactly why this should be included in the curriculum so we can learn and understand how colonialism still impacts ethnic minorities to this day.
Subscribe
Click here for a secure way to sign up, you will be supporting independent news. Click the button below.
Your Opinions
Disagree with this article? why not write in and you can have your say? email us